Finding a Way to Handle the Fleet? Get to Know Everything About Fleet Management!
Himmat Gill
|
February 18, 2022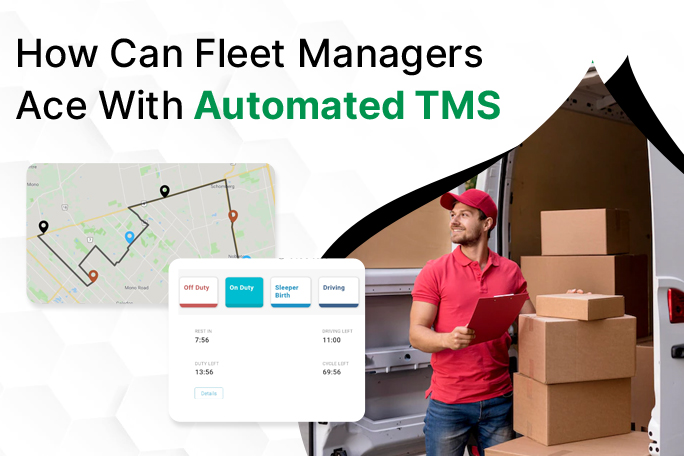 Optimizing the fleet is a crucial yet frequently undervalued business activity that may significantly influence the bottom line for businesses with mobile workforces and fleets of cars. This is especially true for small to mid-sized enterprises, where the owner or general manager frequently makes fleet management choices. But when a business expands, the time comes when it makes sense to think about hiring a qualified fleet manager.
You've come to the best place if you're considering upgrading your fleet management system, have questions about what a fleet manager performs, or want to know how to recruit one. We'll discuss everything about what it takes to run an effective fleet management program.
What is Fleet Management?
If you're just starting your fleet business or planning to start, let's grasp the basic definitions before diving deep.
Fleet management is responsible for controlling the use, fuel consumption, and maintenance of commercial motor vehicles such as automobiles, vans, and trucks. Additionally, if you are a fleet manager, you might have some added tasks like assisting in coaching drivers to increase fleet safety, compliance, and liability. The practice can also encompass asset tracking and the management of equipment ranging from large cranes to smaller equipment like trailers in various industries, such as construction and building contracting.
Long story short, the goals of fleet management are to maximize effectiveness, boost output, and enhance driver and vehicle safety for a company. Now the question is, how can you achieve this? This is frequently accomplished by combining vehicle tracking, fuel consumption reporting, driver behavior monitoring, and maintenance management with the help of fleet management software like TruckSmartz.
How Can a Fleet Management System Help You Sail Through?
For a good reason, fleet management systems have dominated logistics and transportation. They have not only simplified the process but also improved delivery efficiency. Here are some of its advantages:
Real-time dynamic routing
If you're a fleet manager, you might have faced a situation wherein you're unable to contact your truck driver and are tormented by the delivery dates. Such a situation can be very well handled by real-time tracking.
Real-time dynamic routing, which enables you to use real-time insights and data to discover the optimal vehicle route, is a route optimization method for effective planning. It considers several variables, including client location, fleet resources, weather, and traffic flow.
Furthermore, it strengthens the organization's ability to meet strict logistics deadlines. It also helps drivers save time, which enables them to make more deliveries in a single day. Thus after you get hooked on fleet management software,you will be notified of your driver's real-time location, and you can sip your cup of coffee peacefully.
Compatibility with older systems and third-party IT infrastructure
The incompatibility of conventional logistics systems with other systems must be well-known to you. Isn't it? Due to the lack of interoperability, logistics operations are frequently hampered by inadequate visibility, incorrect insights, and inefficient resource use. But we have good news for you!
Thankfully, modern fleet management solutions are unaffected by this problem because most of them are fully interoperable with conventional systems and outside IT infrastructure, making data synchronization simple and easy. Now, you can easily manage your operations by retrieving data from many sources and displaying it on a single dashboard while also guaranteeing that the data is always clear and reliable.
Real-time monitoring from start to finish
Wouldn't you like fleet data to be instantly available across the supply chain? The precise number will enable better decision-making and increase overall performance. What if we tell you that using TruckSmartz, you can easily access data with just one click? The platform thrives by enabling you to effortlessly organize fleets, assign drivers, and track cars from a single location.
You can increase transportation productivity in the supply chain with easy data access, automated reporting, and real-time insights into fleet operations. Additionally, you can enhance budgeting and planning, which will benefit the business, its clients, and partners.
Contactless delivery
We know contactless deliveries have been the need of the hour ever since we were hit by the pandemic. Fleet management software can reduce the number of points of contact in the supply chain by using electronic signatures to confirm deliveries and notifying consumers when their packages have arrived. The ability to better predict the timing of the arrival of the products also enables you to keep your clients and other crucial stakeholders updated throughout the delivery process.
What Does Fleet Management Include?
If you're planning to become a fleet manager, let's brief you on your responsibilities. Fleet management encompasses every process, such as fleet maintenance, compliance, and performance monitoring for drivers and vehicles. Let's examine each component of fleet management in more detail.
Vehicle purchase
Apart from finding appropriate vehicles (based on capacity, refrigeration, mobility, etc.), a fleet manager must also bargain for the best deal and finance the purchases or leases in accordance with the company's budget.
Maintenance of vehicles
A manager should also take advantage of the company's position to bargain for favorable maintenance agreements and guarantee fleet performance over time. Additionally, they must create a maintenance strategy or plan to guarantee that there is little downtime or mishaps. Maintenance decisions can be aided by tracking information on vehicle usages, such as unexpected failures and engine problem codes. It's crucial to keep your fleet in working order.
Driver compliance and safety
A fundamental duty of trucking businesses is to maintain fleet safety. Using an ELD, dashcam system, or other methods, they must ensure that their drivers adhere to the rules and drive safely.
Monitoring and tracking your fleet
Most FMS providers also offer car monitoring systems that use specialized telematics devices to track location via GPS and monitor each vehicle's status, including checking RPM, fuel usage, and engine failure codes. GPS fleet tracking for all of your drivers and vehicles may be implemented at scale without additional hardware using cellphones and mobile fleet management apps. Through TruckSmartz, you can track driver locations to see the current location of a single car or your entire fleet.
Staff retention
Over the next decade, there will most likely be a shortage of truck drivers that will double from the over 60,800 in 2018. Thus, keeping your drivers on the job for a long time is vital.
What is Fleet Management Software?
Oh no, don't be scared reading all the responsibilities. Who said you'd be alone in handling every process? The fleet management software will be your helping hand while mapping every detail of each process.
It might be challenging to keep up with the latest developments, but learning how to apply these advancements will significantly simplify your work in the long term. According to Automotive Fleet: Fleet managers will need to draw on their varied skills in fields like operations, sales, HR, finance, facilities, and procurement to handle the changes.
How Can Fleet Management Technology be Helpful?
Fleet management technology can assist you in:
Decrease fuel costs
Monitoring fuel costs and spending is important with fuel management because, on average, fuel costs make up one-third of your operating expenses. Even a tiny bit of excessive spending regularly can soon add up and deplete your financial resources. Poor fuel expense management increases the risk of unlawful spending.
Report on driving practices that promote safety with driver management
Fleet monitoring systems can assist you in keeping an eye on activities like speeding, abrupt braking and acceleration, and even idle time, all of which can damage a vehicle over time and cost you money.
Receive notifications for vehicle maintenance
It should go without saying that keeping up with your vehicle's maintenance can help it last longer and perform better. Your life will be easier if you use technology to track preventive maintenance like regular tire rotations or oil changes because you will always be informed when a vehicle inspection is required.
Track driver and vehicle locations and routes
GPS mapping and route optimization software, along with advances in telematics and software, can make it easier for you to manage drivers' routes and track their vehicles. They can also reduce costs associated with lost drivers, wasted fuel, and late deliveries.
To Sum Up
Concluding everything, you can enhance your customer service with TruckSmartz. With the help of our GPS tracking solution, you can ensure that your drivers adhere to their schedules and arrive on time for all of their appointments and deliveries.
With the visibility we provide, you may dispatch the vehicle closest to a job while rerouting other drivers so that everyone reaches your clients more swiftly if something goes wrong. So, what's the wait for? Rush to our website and get a demo.
Share This