Vikram Monga
|
January 16, 2021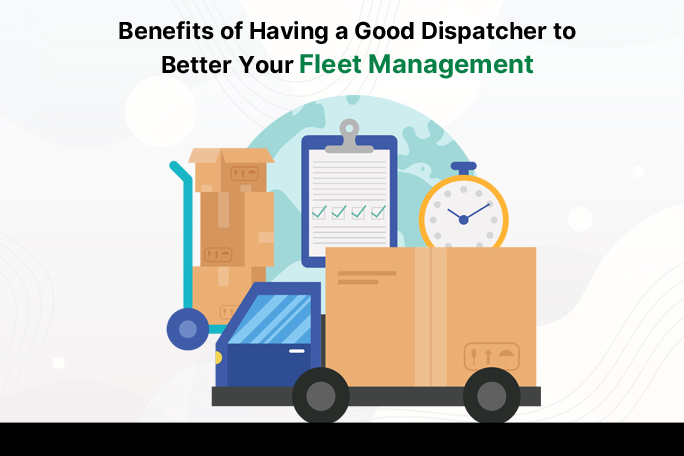 A dispatcher is one of the most underappreciated roles in any logistics operation. Good dispatchers spend a ton of time planning freight movements and coordinating with drivers, clients, vendors, and other parties. When there is a traffic emergency, they are frequently the first to respond.
Dispatcher duties go far beyond just answering the phone, though. In actuality, all communication is typically handled by dispatchers. And yes, that covers the times before, during, and after all vehicles have finished their on-road tasks.
It's essential to the success of your transportation business to have a solid group of experts on staff. However, a committed group of dispatchers who excel at self-management, thrive under pressure, and communicate exceptionally well can make all the difference. This blog will cover some of the advantages of bringing on board and keeping competent dispatchers.
Difference Between Freight Broker and Freight Dispatching Service

First and foremost, it's critical to recognize that, particularly from the perspective of trucking, there is a lot of overlap between freight brokers and dispatching services. Both assist in matching carriers and shippers and address general on-the-road logistical issues for drivers. What sets them apart is less what they do and more how they do it, specifically how they are compensated.
Dispatching services frequently prioritize these relationships over those with shippers and typically bill the owner-operators or companies they work with. Therefore, a dispatching service essentially performs work for you or your business. Contrarily, freight brokers make money by charging shippers the highest possible rate while paying carriers the lowest possible rate.
What are the Benefits of Dispatcher Services?
The following benefits of hiring a competent dispatcher for your company:
#1. They maintain driver activity
The ability to multitask and assign hauls to the appropriate drivers is the best quality of a good dispatcher. They manage active hauls for a large portion of the day, but they also keep drivers on track and set up new hauls for them.
Drivers are kept more active, and payroll costs are reduced when they spend less time waiting for work or sitting by the side of the road. Additionally, it enhances customer service and multiplies opportunities for additional business later in the day.
#2. A well-established network
Dispatchers work closely with the carriers to get them the best freight rates. To find freight, however, most dispatchers use load boards or freight brokers; if you can find one who works directly with a shipper, that's fantastic! A dispatcher wants to negotiate the highest paying freight because, as you may recall, they are not paid unless you are.
#3. They assist businesses in staying abreast of governmental requirements
The rules governing gross weight, HOS, hazmat services, and similar topics are all fully understood by a reputable transportation company. However, very few executives travel frequently or directly supervise drivers' monitoring to ensure they adhere to the ELD mandate and other rules.
Dispatchers, who are familiar with all rules and laws about freight movement, are responsible for this task. They also keep track of scheduling, routing, and driver replacement as potential regulatory restrictions are near. The proactive nature of this service aids carriers in maintaining compliance. However, it also lessens the likelihood of fines and potential on-road accidents.
#4. They look out for their clients
A dispatcher needs to be a skilled communicator overall. The best dispatchers are outstanding problem solvers, whether it's about calmly speaking with drivers to assist them with delivery and replying to emails from recipients or shipping customers. When a delivery is late, or a customer does not show up for the freight pickup, this kind of talent is required to answer their questions.
Being compassionate listeners, good dispatchers are essential for resolving potentially hostile customer experiences. So, it can be concluded that all logistics companies should hire the best dispatchers, as many customers base their shipping choices on the caliber of customer service.
#5. Happy Drivers Come from Good Dispatchers
Any delivery-based operation depends on its drivers, as any competent dispatcher knows. Conflict can arise when employees must put in excessive hours or endure unpleasant working conditions. Maintaining their happiness, safety, and good spirits has numerous advantages for the business, considering the driver shortage that the transportation sector is already experiencing.
How do You Pick the Right Dispatch Services for Your Business?

It's crucial to pick the best truck dispatch service provider to work with. Although they all carry out similar work, dispatch services are not all the same. The knowledge and experience of their staff affect the service's quality. The best course of action is to locate a dispatch service that provides a range of services and expertise that are most suitable for your requirements. For instance, you or a few of your drivers might find it useful to receive support in a language other than English. Find a dispatch service with experience in the area you specialize in.
Employees of a good dispatch service will have excellent communication skills that allow them to establish strong relationships with your company and the freight brokers. They will always know your trucks' routines, shipments, and whereabouts. Additionally, dispatch services can help you with rules and regulations, locate the best fuel prices, and support you in challenging circumstances. Having a trustworthy logistics partner like TruckSmartz can help your company expand and earn you more money while sparing you a ton of headaches.
Share This