Vikram Monga
|
July 5, 2022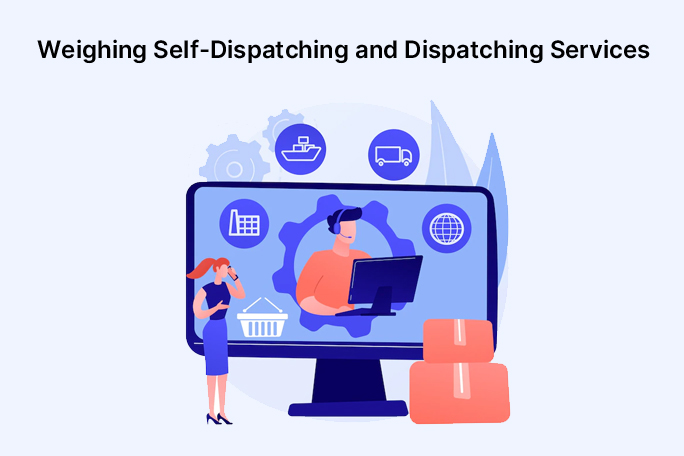 The most difficult task an owner-operator business has to face is effectively self-dispatching. Every decision made regarding any load will have an impact due to the seemingly endless number of moving parts. However, the key factor in load selection may ultimately depend on your mindset or whether you're able to take on the responsibility and use your critical thinking skills.
However, when the number of orders increases, you will eventually have to choose whether to self-dispatch or use a dispatching service when managing your own fleet. You can decide what is best for your trucking company by investigating both of these possibilities.
What Does a Truck Dispatcher Do?
Owner-operator truck drivers are corresponded with cargo loads by truck dispatchers. Consequently, dispatchers are looking for the next load for their drivers to haul while drivers are busy driving. Other forms of assistance are also provided to drivers by truck dispatchers, including:
Giving drivers their loads
Scheduling drivers
Organizing Driver Routes
Managing Billing and Paperwork
Managing Customer Relationships
Providing drivers with weather and road information
Ensuring Motor Carrier Compliance
How Do Dispatching Services Operate?
Dispatching service providers like TruckSmartz manage the fleet for a carrier or owner-operator. They track down freight loads and supervise delivery, making sure that goods arrive on schedule and undamaged.
Additionally, truck dispatchers assist drivers by relaying pertinent information and assisting with any problems that may arise. They use radios to communicate directly with drivers, and computer systems tracking trucks while in motion facilitate this oversight.
What Makes Self-dispatching Crucial?
Self-dispatching is advantageous to dealers, customers, and transporters. Using a self-dispatch feature enables the most practical available loads to be selected from the hauler's perspective. This lessens deadheading, which is always a transporter's top priority since self-dispatch reduces the wait time for vehicle shipments and benefits retail customers and auto dealers.
Dealers can deliver consumer vehicles more quickly because haulers can dispatch without holding up the process or requiring intervention from a third party. Self-dispatch enables a more productive transportation process for all parties.
Differences Between Self-dispatch Trucking and Using a Dispatching Service
Apart from working long hours and traveling far distances from home, a successful trucking career necessitates managing various tasks. A few of these are:
Looking for loads to use
Securing the best possible rates from freight providers through negotiation
Identifying the most profitable and effective routes for certain lanes
Choosing the kinds of freight you want to transport or not
Managing schedules and drivers
Handling unforeseen snags or problems while driving
Maintaining customer relationships
Ensuring that rules are followed
Paperwork, billing, and collections
This might not be a hassle for those who enjoy planning, have extensive industry knowledge, have experience working with freight providers, and have the time to manage all facets of their business.
However, you might think about using a freight dispatcher to help lessen the administrative burden if you need help with some or all of these tasks. Depending on your personal preferences, each choice has benefits and drawbacks. ‍
Would it Help if You Use a Dispatching Service?
Using a freight dispatching service like that by TruckSmartz is best for busy truckers and those just breaking into the trucking business. Using a dispatch service can help you earn more money and give you more free time by taking care of administrative tasks.
When negotiating load rates on your behalf, freight dispatchers may make tactical suggestions for load strategies. This can make a difference between a profitable month and wasting time and money dead hauling for younger trucking companies that do not already have established relationships with brokers or experience navigating volatile markets.
Summing Up
All in all, deciding between self-dispatch and dispatching services by TruckSmartz, comes down to a matter of business judgment. Any owner-operator's success depends on the numbers. If you decide to dispatch it yourself, just be sure to keep track of your time and use TruckSmartz's expertise. When it's time to control your expenses, you'll know it, and many dispatch services are waiting to assist you.
Share This