2023 Fleet and Logistics Forecast
Harpreet Singh Dhariwal
|
November 29, 2021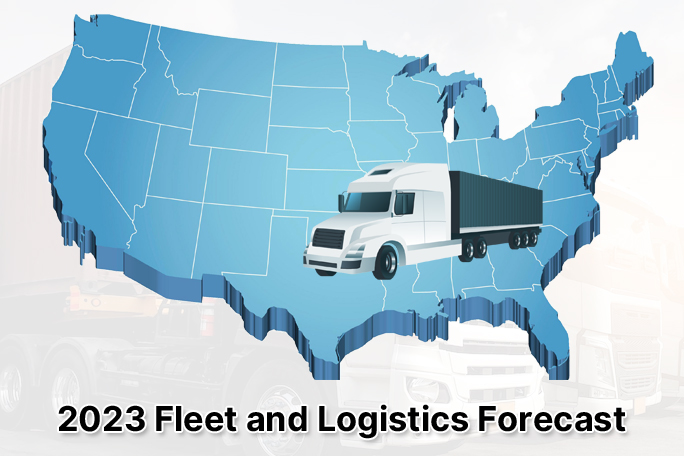 According to Bob Costello, ATA's senior economist, "the trucking industry continues to dominate the freight transportation industry in terms of both tonnage and revenue, constituting 67 percent of tonnage and 81 percent of revenue in 2011".
When it comes to how truckers conduct business and the types of trucks that are entering the market, the trucking industry has seen a significant shift in the last 12 months. The US trucking industry has had ups and downs throughout the year, which have all affected total production and development.
Several factors have influenced how work is perceived inside this business and things that have affected how the industry has operated. Given how close we are to 2023, it is time to examine some of the trends that will probably emerge in that year and determine how they will affect the sector.
Trend #1 Shortage of Truckers
As per statistics, approximately 3.5 million drivers are employed in the trucking industry. Truck drivers lead a demanding lifestyle that involves long periods away from home. As a result, it's challenging for the industry to hire and retain long-haul drivers. Changes in demographics are also impacting the trucking industry.
A truck driver is typically 55 years old, per the Bureau of Labor Statistics and trucking industry news, and many drivers are getting ready to retire. The ATA calculates that the sector lacks over 50,000 drivers due to these problems, and by 2023, this figure is anticipated to increase. The lack of drivers pushes up wages and forces fleet owners to create driver incentive schemes.
Thus, it's crucial to provide drivers with suitable compensation and perks to keep them on board. The Biden administration unveiled a proposal to retain truck drivers to improve America's trucking workforce. The strategy calls for hiring, training, and keeping drivers from underrepresented groups, including women, ex-offenders, and veterans with disabilities.
Their objective is to identify issues and develop solutions to ease supply shortages and bottlenecks to support a robust economic recovery and set the groundwork for a new generation of truck drivers.
Trend #2 Enhancement in Technology
Numerous industries have seen significant advancements as a result of technology, and the trucking industry is not an exception. Technology has advanced throughout the board, from trucking companies' corporate headquarters to the actual vehicles themselves. Fleet management software like TruckSmartz is now being used in corporate workplaces to increase productivity.
As seen by truck drivers, paper logs have already been phased away in favor of more advanced tracking and routing systems. In addition, many upkeep and safety measures have been included due to the constantly evolving technology. The data analytics software used to manage and track transportation chains will continue to advance.
Furthermore, better technology than ever before is being installed in trucks being used, and more trucks are adopting "smart" technology to enhance the vehicle's functionality. Many trucking businesses have been forced to set up technology to help them keep track of the items being transported and communicate this information to the people buying the goods as a result of "tracking an order."
Trend #3 Electrification
The amount of oil used by the transportation industry in the US is astounding. The numbers are anticipated to climb even more, with analysts forecasting that freight load quantities will rise to 17% in the next ten years. Additionally, roughly 24 percent of operational expenses go toward gasoline, which can harm truckers' profitability, particularly during fuel shortages.
Although electric and hybrid vehicles have been available on the market for some time, electric trucking is still a new trend that has to be supported by financial expenditures, technological advancements, and safety laws. Due to greater battery capacities, bigger parking spaces, and charging infrastructure, commercial trucks will require faster charging rates.
Electric trucks driven by batteries have experienced the most significant technological advancements in recent years, making the battery costs more competitive and reasonable. As a result of these considerable advancements in battery technology and cost, truck owners and fleet managers may be able to save a sizable sum of money, and the ability to convey inflation-proof freight may have significant macroeconomic advantages.
Trend #4 Adoption of Cloud-Based Systems
The adoption of cloud-based systems is one of the major developments in the transportation sector since these platforms require a software-as-a-service (SaaS) model, which offers businesses limitless potential for scalability and creative use of digital resources.
It enables achieving more profitability and outperforming the typical returns of on-premise systems. All business operations, including sales and marketing, finance, legal, and more, benefit from SaaS support's introduction of efficiency and cost reductions.
Type #5 The Rise of Blockchain in the Trucking Industry
Blockchain is one of the impeccable technology trends in distribution and transportation that affects mobility and beyond. Assuring the accuracy of performance history data is one of the potential use cases for blockchain technology in the trucking industry.
Potential buyers may inquire about the truck's previous use when it is offered for a second time. All parties participating in a transaction can be confident that the information about the truck is reliable since blockchain transactions are immutable and transparent.
Capacity monitoring is another potential application of blockchain in transportation. The volume of the cargo affects the cost of transportation. The amount of space a specific cargo takes up can be calculated using Internet of Things (IoT) sensors. The cost of the shipping can be determined using this information. By storing this data in a blockchain-based system with a smart contract, self-executing payments based on the freight volume will be possible.
To Sum Up
The American trucking industry is an important one and is unquestionably here to stay. Given how difficult and stressful driving a truck is, there is a shortage of drivers, which impacts the entire sector. Organizations like Walmart are revolutionizing the industry by providing new truck drivers with distinctive advantages and higher pay to attract the upcoming generation of drivers the business so sorely needs.
All-in-all, fleets should maintain their focus on completely automated software for supply chain planning and real-time route optimization in the coming year. Data-driven route optimization software like TruckSmartz will greatly increase the expertise and productivity of trucking companies.
Share This