Himmat Gill
|
February 24, 2021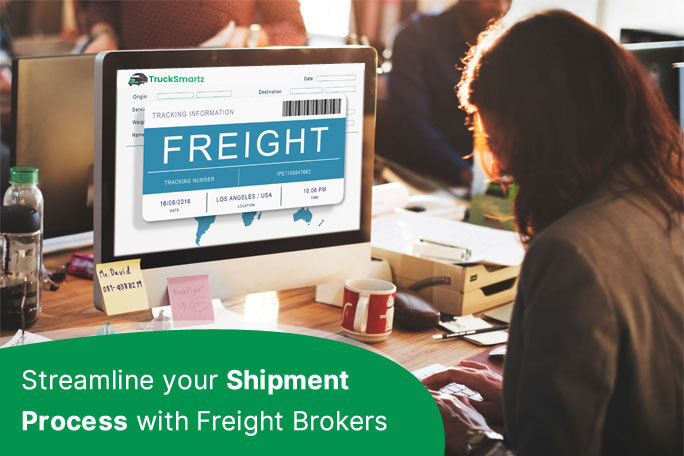 Freight brokerage is a distinct line of business that organizes freight orders and forwards them to freight carriers. Don't get confused with the freight forwarding industry, as it does not own vehicles or storage facilities.
Thus, freight brokerage is best compared to a freight exchange that forwards freight orders to permanent or occasional carriers. As a result, the freight broker is also the principal and, as such, the carrier's invoice recipient. Okay, don't get puzzled up; let's break everything into parts and understand it in-depth.
What is Freight Brokerage?
A freight brokerage acts as a common ground for the shipper, who needs to move their cargo, and the carrier. A freight broker can equip a shipper with the truck and trailer capacity to get their stock out the door and to its destination using a network of trucking companies.
Long story short, the freight brokerage business is all about relationships. So, the shipper relies on the brokerage's network of carriers to transport their shipment. This process saves each shipper time that would otherwise be spent coordinating with and selecting a carrier directly. Instead, any shipment that is dispatched through a freight brokerage is overseen from start to finish by that broker.
How Do You Differentiate Between a Freight Brokerage and Carrier?
A freight brokerage acts as a middleman like any other commodity broker in the most basic terms. However, in this case, the negotiated product is transportation services rather than insurance or securities. Who owns and manages the equipment distinguishes a freight broker from a carrier. Freight brokers do not own trucks or employ drivers; only carriers do.
A freight broker is a person or business planning the delivery and transportation of goods without acquiring the cargo. To accomplish this, a shipment is contracted to be picked up and delivered by a third-party carrier.
What is the Role of a Freight Broker?
A freight broker is the main channel of interaction and connection between shippers and carriers. Freight brokers act as a go-between, ensuring a smooth handoff and on-time, safe freight delivery.
How can a Freight Broker Help You?
A person with a freight broker license can help you in a lot many ways, like
Cutting Costs
Cost-related concerns? It's not just you. Profit margins are everything to shippers, and one of the most common reasons they hire freight brokers is to cut costs.
Freight brokers have the knowledge and resources to streamline your supply chain, identify quick wins that lower your expenses, and pass the savings along to you. Furthermore, since freight brokers already have connections with other businesses and handle loads much larger than your company's cargo, they can take advantage of bulk discounts that will also help your company.
Relationship building
The freight broker you work with will forge a reliable business connection with you and will also have connections with transportation providers. These connections foster a network of productivity and help keep the level of service that ensures each participant in the process is valued.
Extensive carrier network
Brokers with more than two years' history typically have carrier networks with more than 10,000 authorized carriers. They can connect with shippers using LTL (less than truckload), intermodal (rail), air, teams, and specialized machinery. An average carrier has a hub in one or more locations and a limited number of trucks and drivers, but brokers are not subject to the same restriction.
What Should You Consider Before Finalizing a Freight Broker?
It would be best to consider several factors before finalizing a freight broker.
Cost constraints
Even though you might be tempted to select the freight broker with the lowest rates, you should actually take other aspects into account before making a final choice. Undoubtedly, cost savings are important for your business needs, but you get what you pay for.
Think about the value of what is offered at that price point as well as the cost. Even if a broker is slightly more expensive than some of the newer freight brokers available, they can still aid you save money if they have the necessary tools, longevity, and capabilities.
Tech-Savvy
Technology like TruckSmartz's fleet management system is crucial when choosing a freight broker. The best technology should be available from your freight broker, and it should be able to track your shipments from start to finish as well as assist you in choosing the best modes of transportation.
Existing Team
Each freight brokerage provides a specific number of team members. Teams can range from small businesses run by a single person to huge corporations. No matter how big the team is, it's crucial to ensure that they are established and capable of handling the capacity your company brings without the need for additional hires.
To Sum Up
Partnering with a freight broker can aid you in concentrating on your business when you have products that need to be shipped while they handle transportation. You can rest assured knowing that your products will be delivered where they are needed at a lesser price than what you could pay for them on your own.
Also, if you are a freight broker with a freight brokerage license longing to be hired, get an edge with the latest technology like TruckSmartz's fleet management system. If you'd be using super efficient trucking software, your chances of landing a good business would definitely increase.
Share This