Eliminating Paperwork With Fleet Management Software
Himmat Gill
|
January 15, 2022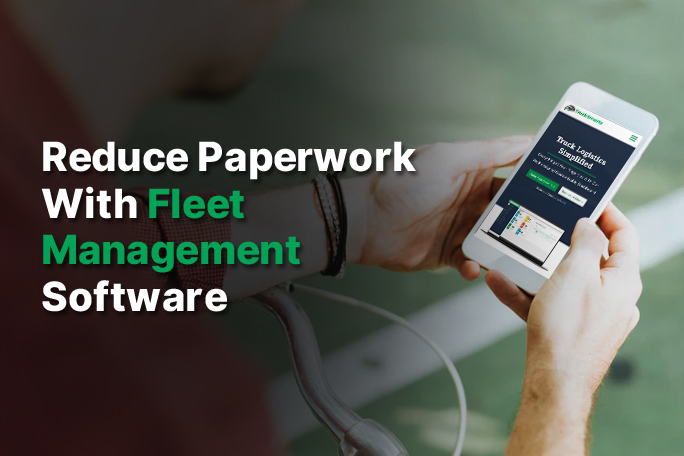 Fleet management procedures need to be effective in order for businesses that depend on their fleets to generate revenue to function. Previously, fleets could only track and manage operations through paper methods, but as society has developed, new management solutions have become possible.
The stacks of paper of the information left behind by each vehicle or item of equipment can slow down fleet operations. Key information can be lost if maintenance histories, warranty details, purchase orders, and work orders are kept on paper.
Fleet management software enables fleets to store all relevant information on a single platform, helping to reduce the mountains of paper. Going paperless increases productivity, facilitates safe and easy information sharing, and provides fleets more access to historical data.
What is Fleet Management Software?
The most reliable instrument for managing fleet operations is fleet management software. All fleet data is tracked on a single, cloud-based platform, allowing users to easily submit and view data from any location. This way, you'll remain in contact with your team and monitor all fleet information in real-time, whether you're working locally or remotely.
Maintaining a smooth fleet operation helps businesses organize, monitor, and coordinate work vehicles from a central information system. Cost, performance and regulatory compliance are the three main goals of fleet management. So, just imagine, you'd get a hold of recording information on driving routes, speeding, and idling time to ensure the efficiency and safety of the vehicle and the employees.
Using truck management software like TruckSmartz has the significant advantage of keeping you from engaging in excessive paperwork. Let's talk about how paperless workplaces are made possible by fleet management software.
Easily Schedule Maintenance
As a fleet manager, you'd know it takes careful planning to schedule maintenance. TruckSmartz understands that it can be a headache for you because it necessitates record-keeping. You continuously take note of the maintenance and track the progress throughout your business.
Thus, to help you diverge from this cumbersome manual process, you can now have a consolidated platform to oversee all maintenance requirements, thanks to truck management software. For instance, with a top fleet management software like TruckSmartz, you can create notification alerts based on time and other criteria to fulfill all deadlines.
You can cross any maintenance task off the list or mark it as finished whenever it is finished. Thereby, you can distinguish between functions in progress and tasks that still need to be done. Furthermore, you can efficiently organize the requirements using this method, making it easier to meet them.
Vehicle Inspection Records
Most fleets conduct regular vehicle inspections to keep track of vehicle health and ensure compliance with regulations. Paper inspection forms take time to complete, even if necessary for finding issues. Drivers become so frustrated that they frequently rush through inspection forms without carefully examining them for problems.
Paper inspections also take longer to complete and adhere to, which hinders communication between the office and the field. At the same time, fleet management software gives drivers the tools to do quick, in-depth inspections while enabling supervisors to obtain inspection findings promptly.
This way, drivers can clearly express problems to supervisors with a few easy clicks and swipes. The program stores inspection results to assist drivers in demonstrating compliance and is conveniently accessible for creating work orders based on faults found.
Efficient Route Planning
Many journeys take place continually throughout a typical fleet business day, producing a large number of jobs for managers. All of these tasks, communicating the start/end location or monitoring the status of the journey, cannot be accomplished on paper.
However, every secretive aspect of the visits can be preserved with a surveillance solution. As a manager, you may keep an eye on the trips' status in real-time. The vehicle's location is automatically updated in the program as it arrives at its destination. Additionally, it is possible to create trip reports that include private information such as the route followed or the time the journey was completed.
The advent of fleet management software like TruckSmartz has allowed managers to unwind. Due to the availability of everything in digital form, they do not need to handle a sizable supply of paper. There is a lesser chance of errors coming in your way when less paperwork is involved, which leads to greater efficiency.
Parting Words
The above-mentioned ways are just some advantages of getting fleet management software. If you're a fleet manager who is finding the paperwork excruciating, hop on to truck management software and manage everything through a screen.
So, what are you waiting for? Be it a trucking contract or maintaining information about drivers and vehicles, TruckSmartz lets you do it efficiently. Book a demo for yourself to get a better look at the software. Till then, keep trucking.
Share This