Vikram Monga
|
August 17, 2022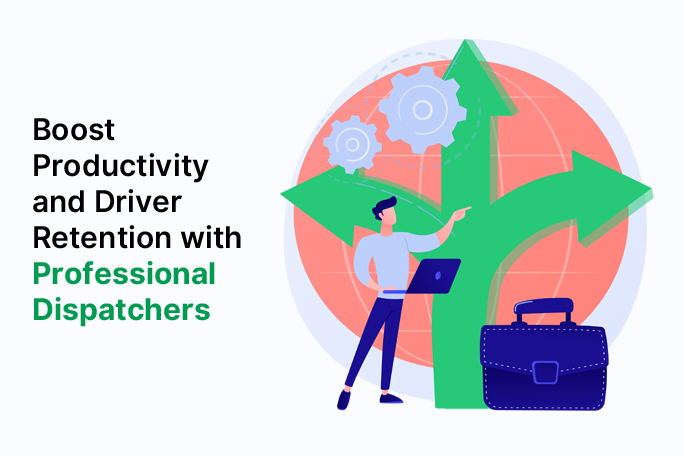 You'd be mistaken if you think that the trucking industry is limited to just trucks and drivers. Yes, drivers are ultimately in charge of each delivery, but every haul involves a variety of support services and procedures that work in the background to ensure its success.
Moving things from Point A to Point B is not as straightforward as it may seem. The truck dispatcher, who is on the other end of the dispatch line, is one of the most crucial gears in the engine. They serve as the driver's primary point of contact and safety net while driving. A dispatcher must be as effective and competent as possible in light of this. Let's learn how a professional dispatcher can help you boost your productivity and driver retention.
What is Dispatching, and Who is a Dispatcher?
The art of dispatching entails scheduling technicians to work orders to ensure that services are provided with professionalism and high quality.
A dispatcher is someone who takes customer calls and logs crucial data. They respond to inquiries from clients and offer solutions to issues. They recognize clients and help technicians with their work orders, including those that are dispatched and scheduled.
How Can Outsourcing Dispatchers Help Your Trucking Business?
When you opt for dispatcher services, they'll take care of the following:
Managing field service personnel, interacting with customers, customer service representatives, and other dispatchers
Scheduling and setting call priorities for customer service
Selecting technicians with the appropriate abilities and organizing their routes
Keeping track of completed work
Controlling customer data
Tracking and keeping track of the work order's budgeted and actual time spent on it
Tips for Dispatching That Can Help Increase Your Efficiency
#1. Use a Clearly Defined Process
The importance of planning elaborate processes is crucial for every business. Companies need to be able to follow a clear and efficient work process to succeed. Processes clarify tasks and work, which prevents confusion and boosts productivity. Ensure daily documentation to monitor whether procedures are being followed to increase fleet efficiency.
Train your drivers and dispatchers on procedures as well. Make sure they comprehend and allow them to inquire and gain knowledge. The entire fleet should have a solid grasp of the dedicated process because it makes everyone's cooperation more effective. Your fleet's dispatch efficiency can increase by having a clearly defined process.
#2. Hire the Right People
Some trucking companies looking for dispatchers put the wrong people in the wrong positions, which leads to long-term disaster. If you work in dispatching and are looking to hire new employees, make sure to select candidates who are qualified for the dispatcher position. This is because dispatching is a crucial component of the business, and having the wrong people in this position risks damaging the organization's reputation.
Watch out for candidates with tech knowledge and multitasking abilities during the hiring process. Additionally, look for people who are excellent communicators and are knowledgeable about the company's services and region. Or, to save yourself from this hassle, you can opt for TruckSmartz's best dispatch service for owner-operators.
#3. Learn about your drivers
Undoubtedly, people tend to work together when they know them and, ideally, have something in common. Consequently, it's critical for dispatchers to take the time to get to know drivers on a personal level. Inquire about their hobbies, family, and career goals and note them down.
This will not only strengthen the working relationship on a daily basis but also demonstrate to the driver that they are valued as people rather than just another resource to move cargo.
#4. Leave Room for Compliance
The inflexibility of their remaining Hours of Service (HOS) is one issue that drives delivery drivers crazy. For example, assume that a driver has nine hours of remaining driving time and that it takes them eight and a half hours to get where they're going. The driver might have to park by the side of the road and wait until they can drive again if they only stop to eat dinner or use the restroom, which could cause them to miss the delivery window.
As was already mentioned, some GPS tracking devices include compliance data tracking. Thus, enhancing your trip design processes will guarantee effective fleet dispatching.
To Sum Up
Dispatchers play a crucial role in fleet management. Making their work more productive can positively impact the entire organization. Make sure that you have a detailed defined process, use GPS tracking to streamline communication, and schedule detention time when trying to increase dispatch efficiency.
By utilizing the fleet tracking management software from TruckSmartz, you can further increase the productivity of your fleet. Your fleet will advance to the next level thanks to this technology that saves time and money.
Share This