Everything you should know about DOT compliance
Garry Sharma
|
October 23, 2021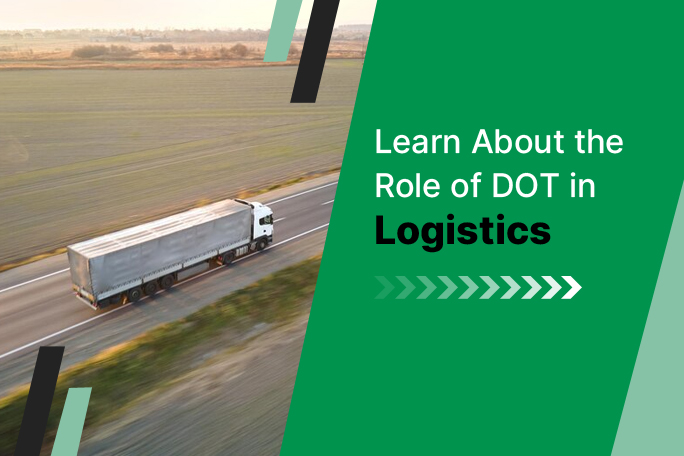 Compliance with DOT and FMCSA regulations is necessary to keep a safe fleet. With the help of these rules, the road should be safer for both drivers and passengers. It's critical to understand how to adhere to DOT compliance regulations and boost fleet safety to avoid exorbitant fines and safety risks.
If you want to learn about the role of DOT in logistics or DOT compliance in general, you're at the right place. We have compiled everything you require to comply with DOT regulations, including advice on maintaining compliance.
What is DOT Compliance?
The government organization governing all interstate travel and movement in the US is called the Department of Transportation (DOT). To do this, the DOT develops a complex set of guidelines that all owners of commercial vehicles must follow. The mission statement for the DOT is as follows:
To guarantee that America has the world's safest, most effective, and cutting-edge transportation system, which increases our economic productivity, worldwide competitiveness, and quality of life.
The Federal Motor Carrier Safety Administration (FMCSA) is the federal agency in charge of enforcing the rules and regulations which the DOT develops. Commercial fleets must adhere to the numerous laws, present continuing documentation, and participate in routine audits to maintain DOT compliance.
Truckers are aware that the Department of Transportation issues DOT numbers, which may be found on vehicles and other papers to show registration with the organization. DOT rules essentially control every element of the industry.
Who is Required to Comply with DOT Compliance?
Vehicles that have to register with the DOT and get a USDOT number are subject to DOT compliance laws.
These can be broadly referred to as commercial vehicles, but the DOT regulations are more particularly focused on vehicles that meet one or more of the following requirements:
Transport of dangerous or illegal materials, as defined by DOT in terms of type and amount.
Carrying 4,536 kg or more for gross vehicle weight.
Transporting more than eight people (including the driver)in exchange for money.
Transporting more than 15 passengers for any cause.
What are the Types of DOT Violations?
Department of Transportation regulations controlling DOT vehicles' use regulates various activities, from driver certification and behavior to vehicle operation and maintenance.
Below is a list of the most typical DOT infractions:
Driver running a vehicle for longer than the permissible hours of service (HOS), which is the total time without a permitted break,
The driver does not have the required training or licensing
Failure to test or follow up on a driver's drug or alcohol use test while they are on duty
The vehicle is not kept up to date
The vehicle wasn't properly inspected as needed
Transporting dangerous items in an unsafe manner
Inadequate or flawed necessary documentation
Tips to Prevent DOT Infractions
You can take extra steps to prevent infractions and maintain compliance in addition to adhering to DOT compliance regulations.
Here are some guidelines to remember when trying to maximize DOT compliance.
#1. Continue to Make Compliance Visible
You can track how well your fleet is following regulations by keeping an eye on concerns with HOS breaches and DVIR inspections. Visibility to track and record required requirements is provided by an ELD solution. To display fleet compliance in simple dashboards, digital inspection solutions centrally compile inspection report data.
You can receive real-time warnings on failed inspections and violations and improved visibility through digitalization, putting you one step ahead of the DOT.
#2. Digitize the Paperwork for Annual Reports
For commercial fleets, keeping track of inspections and annual reporting paperwork is a labor-intensive chore. Because traditional compliance operations are paper-based, storing, tracking, and retrieving information is a time-consuming and challenging process.
Using fleet management software like TruckSmartz, you may expedite the paperwork and find compliance concerns before they become a problem. This makes it simple to standardize safety procedures and put together reports.
3. Avoid maintenance problems
With remote diagnostics, you can prolong vehicle life and prevent expensive failures. To stay away from compliance issues and avoid wear and tear, TruckSmartz's remote diagnostics enable you to schedule maintenance chores and receive mechanical alarms.
To Sum Up
The success and reputation of businesses in the transportation and heavy vehicle industries depend on DOT compliance. Accurate record-keeping is the first step in establishing a compliance culture inside your company. TruckSmartz can assist you in achieving this crucial objective by giving you access to a practical web-based inspection platform that enables drivers to swiftly and accurately report their inspections using their preferred device.
Share This